Easter is a time to celebrate the renewal of life with flowers, eggs, rabbits and chicks as you and your family celebrate Easter! Easter commemorates Jesus' resurrection and the coming of the Spring season when flowers begin to bloom and baby animals are born. What better way to embrace this special time of year than with an Easter party?
The traditional Easter celebration in America is always one that brings friends and family together, whether it's in the comfort of home, at a park, or at a local restaurant. Often times the preparation for the festivities is as much fun as the main event itself. In the weeks leading up to Easter, you can begin decorating the home using plenty of pastel colors and baskets filled with eggs, chicks, rabbits and flowers. Then on the Saturday before Easter, it's time to prepare the traditional fare and participate in activities such as painting eggs. Finally, on Easter morning children everywhere are ready for the annual egg hunt when they can discover where the Easter bunny has hidden all the decorated eggs. Get creative with the festivities of Easter this year and check out some of these unique ideas for your holiday celebration!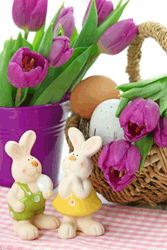 Decorating for Easter can be heaps of fun! You can keep things simple by incorporating traditional baskets around the house filled with eggs, plush animals and tulips or lilies. Or if you enjoy getting a little more creative, try hanging colorful eggs from a tree, making flowers form tissue paper or even creating an Easter centerpiece by surrounding a candle with decorative grass and tiny blue robin's eggs. There are countless other ways to get into the spirit of the Easter holiday just by using materials found around the house and tapping into your artistic side.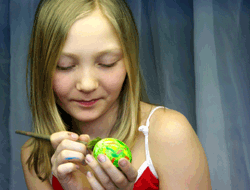 There is a basket full of fun activities to choose from in preparation for Easter that you and your friends and family can enjoy. The first and most popular one that comes to mind is egg decorating. It is amazing how many fun things you and your kids can do with eggs that include dyeing, painting and decorating with everything from glitter and stickers, to stencils and tissue paper. In addition, newspaper or string papier-mache can be handy materials to create model eggs, bunnies or chicks which can be painted spring colors after they dry. These activities and many others are a great way to welcome the Easter bunny and embrace the coming of the Spring season.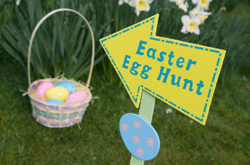 There is only one way the kids can know for sure that the Easter bunny has come to visit their home: when there are eggs hidden in the yard to snatch up and collect in their baskets! Not only is the "Easter Egg Hunt" the most traditional children's game of the Easter holiday, but it also allows for a variety of ways to play it. You can have the children in your family collect eggs that they have painted, or plastic ones which you can fill with yummy snacks, chocolate or candy for a sweet surprise. But besides the egg hunt, there are countless other games you and your family can enjoy such as a bunny hop race or Spring art contest to celebrate Easter Sunday.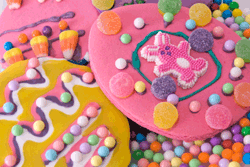 All those blissful games and activities wouldn't be the same without a smorgasbord of savory Easter dishes and sweet treats to fuel the festivities. In fact, when most people think of Easter, chocolate bunnies, jelly beans and cream-filled eggs easily come to mind! The honey-baked ham is an easy choice for a traditional Easter feast, as well as vegetables such as carrots and cabbage. But no feast is complete without a rabbit carrot cake, candy egg-topped cup cakes, or Easter bunny cookies. What delectable Spring treats will you serve this Easter?